One of the most horrendous corrections the Dow has ever been through began in Sept 1929 and appeared to end in Nov 1929. In this short time period, the Dow shed roughly 50%. This move was almost repeated exactly in 2008, when the Dow dropped In Sept from 11600 to roughly 7550 by Nov 2008, the only difference was that the Dow shed 34% instead of 50%.


The bottom In Nov 1929 proved to be a false bottom just as the bottom in Nov 2008 turned out to be a false bottom.


From its low of roughly 190 (Nov. 1929) to its high of roughly 300 in April 1930, the Dow tacked on 57%. The current move that started in March 2009 is strikingly similar; currently, the Dow is showing a gain of roughly 47%.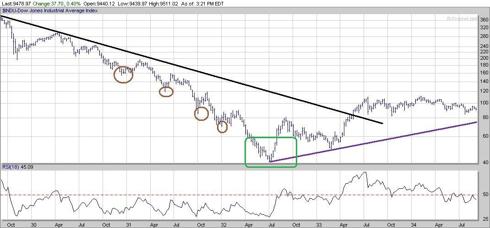 This chart clearly illustrates the false bottom the Dow set in Nov 1929. The bottom in Nov 2008 failed and the Dow put in what appears to be bottom in March 2009. What remains to be seen now is if the Dow will follow a similar path downward, where each so called bottom eventually was taken out until the Dow lost 90% of its total value. Time will tell, but it does appear that the Dow is following this old pattern rather closely.